Our network will be completely offline for several hours starting around midnight, Sunday, August 3rd. All network services, including It's Me 247 online, mobile, and text banking (including e-Statements, bill pay, MoneyDesktop, etc.), and 24 Teller services will be unavailable at various times during maintenance. 
The maintenance period is expected to last up to 12 hours.  At this point there is no way to accurately predict exact restoration times, but we will be doing our very best to bring these critical member services up as quickly as we safely can.  We appreciate your cooperation and patience. 
As a member of North Central Area Credit Union, we should be your first stop ANYTIME you are shopping for a major purchase.  NCACU is Your Best Deal.  We have lower rates than most and match loan rates in our service area.  For everything from a new car loan, a credit card,  or even quick cash–there is no need to go anywhere else or to shop for special rates–we are Your Best Deal!!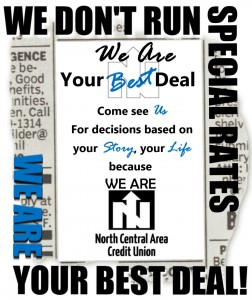 What's New
Members continue to win cash for being spotted showing their NCACU "Love."  Proud members simply display one of our stickers on their vehicle and employees will randomly "spot" them in our communities and reward them with a deposit to their…
Read More
NCACU recently hit the 5,000 hours mark for our MASH  (Mentor, Assist, Support and Help) Volunteers. 
Read More